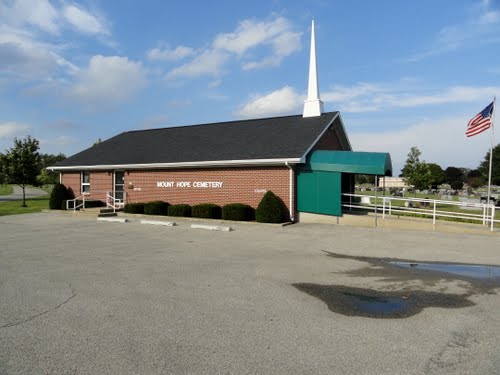 Mount Hope Cemetery Peru, Indiana
411 Grant Street, Peru, Indiana - 765-472-2493
Hours Monday through Friday 8:00am-4:00pm (closed noon to 1pm) Saturday by appointment
Email us at: beverly@mthopeperu.com
Cemetery Management: Mt. Hope Cemetery Association is organized as a charitable not-for-profit association, with each lot owner being a shareholder of the corporation. An annual meeting of the stockholders is conducted each February and notice of the annual meeting is published in the Peru Daily Tribune. A Board of Directors, consisting of seven directors, manages the Association. Each director serves without compensation, with the election of directors occurring at the annual February shareholders' meeting. The Board of Directors meets when called by the President and the President or any two board members may call special meetings. Mt. Hope Cemetery employs an office manager and a sexton, as well as groundskeepers. These are the only paid employees of the Association.
Community Asset: The availability of moderately priced burial lots in a pleasant and well maintained setting, makes Mt. Hope Cemetery a significant asset to the residents of Peru and Miami County. The fact that no tax dollars are used for either maintenance or capital improvements increases that significance. Community support of the cemetery is vital.
Maintenance Funding: The day-to-day expenses of the cemetery are paid from the income of lot sales, services and endowment interest. Most years, the income and expenses are about evenly balanced and substantial surpluses or deficits are rare. By law, a percentage of all lot sales are deposited into an endowment. Although the endowment currently amounts to more than $260,000 only the interest is made available for cemetery maintenance.
Capital Funding: No financial provisions exist for improvements, acquisitions or major repairs. Past capital expenditures have been funded by community support of the Board's campaigns for contributions. Recently, the community responded to an appeal for funds and the Memorial Chapel-Business Office building was constructed. A similar plea resulted in funding to resurface all the roadways.
Donations: Donations by outright lifetime gift, testamentary provision and memorialization of a loved one are welcomed and appreciated.
All donations are tax deductible and may be delivered to the business office or mailed to: Mt. Hope Cemetery Association, 411 North Grant Street, Peru, Indiana, 46970 Please make checks payable to: Mt. Hope Cemetery Association
This site was last updated 01/24/13